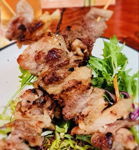 New Taste | New Menu| Plant-Base Chicken Tenders with Thai Menu| Butterfly Prawns with Trio Curry Dipping Sauce
Just Click "order online" or Call us 035784887. Enjoy !!!
Entrees & Nibbles
1. Roti Duck
Aromatic Duck served on frgrant Roti, topped with cucumber, spring onions, shallots and our Chef's special sauce.
2. Golden Spring Rolls
Vietnamese style deep fried spring rolls with pork mince and veggies
2B. Crispy Cream Cheese Rolls
Crispy rolls filled with special tasty cream cheese with Thai dipping sauce.
3. Crystal Spring Rolls
Vietnamese style fresh rolled rice wrapper with prawns, rice noodle, carrot and green veggies
4. Butterfly Prawns
Deep fried prawns with Ajard Thai dipping sauce
5.Spinach Wrap Sensation (8)
Wrap and roll your own spinach leaf ,ginger,cashew nuts,onion,Crispy coconut chips, and the chef's secret sauce
6. Gourmet Corn Fritters
with Lemongrass chef's sauce
7. Grilled Marinated Pork Spare Rib
8. Thai Grilled Pork Kebabs(Moo Ping)
9. Coriander Chicken Kebabs
13. Gyoza Pan Fried Pork Dumpling
13C. Siu Mai; Steamed Pork Dumpling
13V. Pan Fried Vegetarian Dumpling
Soup
15. Tom Khra
Thai chicken soup gets its rich flavour from quintessential Thai ingredients: coconut milk, lemongrass, fresh galangal, Kaffir lime leaf, mushroom and tomato
16. Tom Yum
A traditional Thai Soup with stock made with Thai herbs, lemongrass, galangal, lime leaf, coriander, mushroom and chillies with chicken
Light Meals
20. Pho: Vietnamese Beef Noodles Soup
With Mung Bean Sprouts
24. Vietnamese Pancake
Filled With Pork Mince, Beansprouts & Coriander
21.Chicken With Mushroom & Spring Onion
Salad
26.Yum Talay -Thai Spicy Seafood Salad
28.Thai Beef Salad
With mixed green
Curries
30.Crunchy Chicken With Creamy Coconut Red Curry Sauce
31. Crunchy Chicken With Creamy Coconut Green Curry Sauce
35. Lemongrass Tamarind Curry
Served with steamed rice
Steamed fish with the sour-fruity taste of tamarind combined with mildly sweet coconut milk and hot red curry paste.
36. Chicken & Potato Curry
Malaysian Style Homemade curry paste, with lot of lemongrass & Asian herbs
38. Kang Som Pla Thai Gourmet Hot & Sour Fish Curry
Steamed fish fillet and seasonal vegetables with the sour-fruity taste of tamarind combined with homemade curry paste that made up of pounded fish and Thai herbs. (Cooked without coconut cream)
39. Slow Cooked Pork Belly
Served with steamed rice
With Ginger Garlic Curry Sauce
40. Slow Cook Beef Rib
With "The Lemongrass" Signature Creamy Curry Sauce
32.Classic Thai Red Curry
Served with steamed rice
33.Classic Thai Green Curry
34. Creamy Peanuts Rama Curry
Creamy peanuts red curry sauce with Thai herbs & Vegetables served
41. Fragrant Pineapple Chicken Curry
Red Curry with pineapple
From the Wok
46. Very Angry Duck
Stir fried duck with lots of herbs & chilli, served with rice.
47. Nanban Chicken
Deep fried chicken with special tartar sauce
48. Lot & Lot Of Ginger
With woodear mushroom & garlic
51. Crunchy Chicken With Sweet Soya Sauce
52. Crispy Duck – Vietnamese Style
Served with steamed rice
on top of vegetable served with tamarind sauce
53. Duck With Ginger
Served with steamed rice
& roasted chilli paste
55. Coriander Chicken Kebab
Served with steamed rice
with rice
56. Stir Fried Cashew Nuts & Vegetables
Served with steamed rice
57.Spicy Chicken With Egg Plant
Served with steamed rice
Chilli, garlic and basil
58.Teriyaki Chicken With Rice
Served with steamed rice
59. Crunchy Chicken With Sweet & Sour Sauce & Pineapple
Served with steamed rice
50. Chicken With Lemongrass & Vegetables
Served with Fried Noodles
60. The Lemon Grass "Signature Pork Rib"
Served with steamed rice
Marinated Pork Rib with Asian and Tamarind Sauce
61.Crispy Pork Belly With Whisky
Served with steamed rice
And Seasonal Vegetables
62.Vietnamese Wok Beef Fillet
Served with steamed rice
With Black Pepper ,Soya & Garlic
Pork & Beef
64. Deep Fried Pork Belly With
Sweet & Sour chilli sauce
65. Nam Tok Thai Grilled Beef Salad
Served with steamed rice
A mouth watering slice of tender beef sirloin tossed with onion, tomato, cucumberand mint in a spicy lime dressing
66. Seua Rong Hai-Crying Tiger Beef
Served with steamed rice
Grilled marinated beef sirloin, sliced and served with Thai spicy sauce
67.Angry Beef
Served with steamed rice
stir fried beef with lot of herbs & chilli, served with rice
Vegetable
71. Fried Rice With Cashew Nuts And Vegetables
72. Stir Fried Seasonal Vegetable With Oyster Sauce
74. Egg Plant With Red Curry Creamy Sauce
Served with steamed rice
75. Vegetables Tempura Basket
Served with steamed rice
Seasonal Vegetables deep fried in a light tempura batter served with Tempura sauce
Seafood
86. Peppered Squid
Served with steamed rice
87. Peppered Prawns
Served with steamed rice
88. Fish Pad Prik King
Served with steamed rice
90. Mixed Seafood Tempura Basket
Served with steamed rice
91. Nanban Fish
Served with steamed rice
81. "The Lemongrass" Signature Fried Fish
Served with steamed rice
Deep Fried Fish, topped with mayo
92. Fish With Ginger
Served with steamed rice
Noodles & Rice
201. Rice Noodles With Soy Sauce & Veggies
202. Phad Thai
With Peanuts & Mung Beans Sprout Served
203. Spicy Egg Noodles
With Basil & Fresh Chilli. Served
204. Fried Rice with Vegetables
205.Thai Spicy Fried Rice
With Chilli And Basil
206. Ginger Fried Rice
With garlic and spring onion
207. Spicy Green Curry Fried Rice
Add On
106.Stir Fried Seasonal Vegetables
Opening Hours
Tuesday
11:30 am - 2:30 pm
Wednesday
11:30 am - 2:30 pm
Thursday
11:30 am - 2:30 pm
Saturday
11:30 am - 2:30 pm
Location
Maxwell Road, Blenheim 7201, New Zealand